30th SICAC PARIS KNIFE SHOW
ESPACE CHARENTON
The entrance will be via 327, rue de Charenton 75012 PARIS
NEW ROOM
In order to better accommodate you, especially at busy times, and to give a better work space to our exhibitors, we decided, just like since the 27th SICAC, to change rooms at Espace Charenton.
Once again this year, we will keep Appolo Hall and invest the Ariane Room, which will bring the total exhibition space to 1,700 m2.
Discover our showroom on the site espace charenton www.espacecharenton.com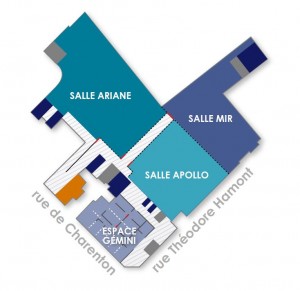 DATES
Opening on Thursday September 12 th, 4 pm to 9 pm
Friday, September 13, 2019 from 9h-18h
Saturday, September 14, 2019 from 10h-16h
ORGANISATION
Martine et Yvon GAGUECHE
+33 (0)6.99.31.21.08
sicac@orange.fr
PRICES
Valid for 2 days: Friday 13th and Saturday 14th September unchanged since 1st Sicac: adults 15 €
Special rate Thursday afternoon September 12 with participation in the cocktail, Friday 13 and Saturday 14 September to discover shortly.
RESTAURATION
A company specialized in catering with "catering" department will offer, this year again, in an exclusive area of nearly 300 m2 also dedicated to relaxation, all the services you can expect.
TRANSPORTS
* Métro ligne 8
Station Porte de Charenton
* Bus
Ligne PC2 Station Porte de Charenton
Ligne 87 Station Charenton Jardiniers
Ligne 111 Station Porte de Charenton
* Tram T3
Station Porte de Charenton
* Par la route
périphérique sortie Porte de Charenton et Porte de Bercy